Sensi Pearl - Petite Brunette Tormented and Made to Squirt [Remastered] (2020) HD 1080p
08.08.2020
|
Просмотров:

339
|
Комментариев:
0
В закладки
Дата добавления на сайт
: 05.08.2020
Дата обновляемого ролика
: 29.07.2011
Название обновляемого ролика
: Destructive orgasms - this Little Brunette is made to cum in stressful bondage
Жанр
: BDSM, Bondage, Fingering, Vibrator, Clothespins, Flogging, Dildo, Caning, Flogging, Squirting, Nipple Clamps, Ball Gag, Spanking, Suspension
Продолжительность
: 00:53:20
Студия
: Kink.com
В ролях
: Sensi Pearl
Название ролика
: Sensi Pearl: Petite Brunette Tormented and Made to Squirt
Описание
: Kink Classics is proud to present this remastered classic scene: Sensi Pearl is known for her flexibility. Time to put that to the test. First, her petite arms and ankles are cuffed tight. Her legs are pulled spread apart, her arms stretched back and her hair taut, to maintain an upright posture. Sensi's body squirming around in tough bondage, from a hard caning and a vibe on the clit. Next, she is pinned up against the wall, her legs folded back, arms down and neck fastened. Her pussy is swelling and inviting to squirt more times than she can count. The nipple clamps to her toes assure that when she cums she can only be overwhelmed. Sensi is suspended upside down in the splits. The belts wrapped tight around her body, the chain holds her in position and this girl is bound to cum in ways she'll never experience again. Her orgasms send her off into the deep end.
Качество видео
: SiteRip
Тип HD видео
: 1080p
Формат видео
: MP4
Видео кодек
: H.264/MPEG-4 AVC
Аудио кодек
: MPEG-4 AAC LC
Видео
: 1920 x 1080, 29.97fps, 9952Kbps
Аудио
: 48000Hz, 160 kb/s, Joint Stereo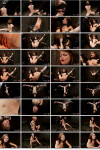 Информация
Посетители, находящиеся в группе Гости, не могут оставлять комментарии к данной публикации.