Abigail Dupree - Spread Wide Brutality (2020) HD 720p
16.08.2020
|
Просмотров:

217
|
Комментариев:
0
В закладки
Дата релиза
: 12.08.2020
Жанр
: BDSM, Bondage, Fingering, Flogging, Whipping, Pussy Torture, Pierced Pussy
Продолжительность
: 00:27:46
Сайт
: SensualPain.com
В ролях
: Abigail Dupree, Master James
Название ролика
: Spread Wide Brutality
Описание
: Feel the pain wash through you like water and funnel it down to pleasure. A very painful session was done today at the hitching post. This pain slave was bound in one of the most vulnerable positions a female could ever be placed in, legs spread wide and the pussy exposed for full sadistic manipulation such as pussy whipping and labia stretching. These brutal body manipulations are necessary in training the body, preparing it for extreme use in sexual deviants. This kind of painful slave training is a must for the advanced Male Master or Domina. The slave is at the proper height, legs wide and shackled to the wooden post. Her head is restrained in a tight leather head harness above the choking collar with her pussy exposed almost too atrocious to even watch what pain will come. She is poised to scream and cry before starting, hoping for mercy but dare not say a word. One wrong word and Master just may add some heavy weights to them pussy rings, just heavy enough though may tare that tender flesh to ruin that pussy for ever. She serves at the pleasure of her Master! Just to be allowed to touch his cock is reward enough for any suffering or pain he commands her to feel! A complete instrument of his whim! With each cry at the shackle, each stroke of the whip she feels his deep abiding affection & love!
Качество видео
: SiteRip
Тип HD видео
: 720p
Формат видео
: MP4
Видео кодек
: H.264/MPEG-4 AVC
Аудио кодек
: MPEG-4 AAC LC
Видео
: 1280 x 720, 23.97fps, 7164Kbps
Аудио
: 48000Hz, 160 kb/s, Joint Stereo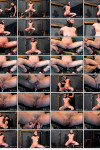 Информация
Посетители, находящиеся в группе Гости, не могут оставлять комментарии к данной публикации.