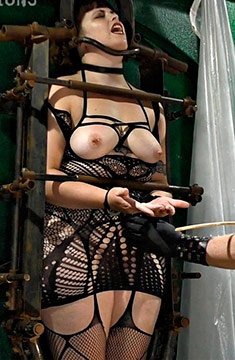 Prunkle - A Little in the Gibbet (2020) HD 1080p
22.08.2020
|
Просмотров:

150
|
Комментариев:
0
В закладки
Дата релиза
: 19.08.2020
Жанр
: BDSM, Bondage, Caning, Flogging, Stockings
Продолжительность
: 00:21:45
Сайт
: SensualPain.com
В ролях
: Prunkle, Master James
Название ролика
: A Little in the Gibbet
Описание
: Her Daddy decided to bring his little Prunkle to the dungeon at Sensualpain studios for a bit of impact play to help round out the D⁄s relationship they have together. This little is a bit different than some, she enjoys being beating in a particular way with canes, whips and paddles as her Daddy watches.. Master James has Prunkle in the gibbet for storage until it is time to start the session. She is shrouded in plastic as Master James begins his questions poking and prodding with his cane. The Master unveils her, then proceeds to cane and flog her boobies, poking her newly pierced nipples and caning her thighs. She almost reaches the beginning of subspace but the Master brings her back, having her laughing and almost yelling out skillfully teetering her on the edge of pain and the pleasure of physical manipulation and mentally punishment. At the end of this video, Prunkle talks with us here at Sensualpain studio. She explains her little side and we discuss her D⁄s Relationships.
Качество видео
: SiteRip
Тип HD видео
: 1080p
Формат видео
: MP4
Видео кодек
: H.264/MPEG-4 AVC
Аудио кодек
: MPEG-4 AAC LC
Видео
: 1920x1080, 23.97fps, 7164Kbps
Аудио
: 48000Hz, 160 kb/s, Joint Stereo
Информация
Посетители, находящиеся в группе Гости, не могут оставлять комментарии к данной публикации.