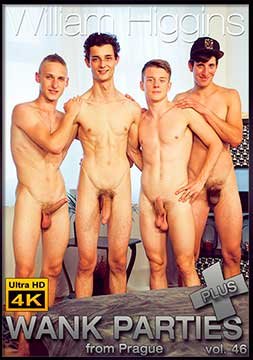 Wank Parties Plus From Prague 46 | Отвязные Вечеринки в Праге 46 (2020) HD 1080p
19.09.2020
|
Просмотров:

77
|
Комментариев:
0
В закладки
Год производства
: 2020 г.
Страна
: Czech Republic
Жанр
: Anal , Bareback, Big Dick, Blowjob, Oral, Rimming, Young Men, Twinks
Продолжительность
: 01:06:26
Режиссер
: William Higgins
Студия
: William Higgins
В ролях
: Alan Colter, Alan Hemar, Ethan Wilder, Franta Beko, Radek Cerveny, Rick Palmer, Robbie Kasl, Tony Milak
Описание
: Wank Party features Franta Beko, Milan Neros, Alan Hemar, and Radek Cerveny. In this first part, we see Alan and Radek chatting as they wait for the others to arrive. Alan leans over and begins to kiss Radek. They help each other remove their tee-shirts and continue to kiss as Alan kneels between Radek's legs. He pushes Radek down on the bed and pulls off his shorts to release a stiff cock. Alan takes the rock hard dick in his mouth and begins sucking on it. In this second part we join them as Milan's big cock is deep in Alan's ass and Franta is sitting his ass down on Radek's dick. Milan pounds Alan's hole as Franta rides up and down on Radek's cock. Then, moving side by side Milan and Radek fuck their partners from behind. With those holes opened up good, they swap partners with Radek fucking Alan and Milan doing the same to Franta. Then Radek spoons with Alan who wanks his own cock to shoot his hot load. We have a great line-up for Wank Party 111 with some very sexy str8 guys. Part one sees Ivanek Ukara, Tony Milak, Mojzis Kral, and Alexandr Jander. Their thoughts soon turn to sex and everyone gets bare-chested as they kiss each other and play with each other. In this Wank Party video, we get to enjoy all four of them and we watch them set up for the action as they interact with each other we can enjoy some hot sucking. In this second part, we join them as Ivanek is lying on the massage table as he is kissed by Alexandr. He then sucks Alexandr's big cock as his own dick is worked on by Tony, with Mojzis kissing his feet. Mojzis then joins Tony and shares the sucking with him. Alexandr fucks his cock into Ivanek's hot mouth. Then Ivanek sits up and all four swap kisses. Alexandr bends over on the table to receive Mojzis' throbbing dick in his hot ass hole. He sucks on Ivanek's cock as he takes Mojzis' dick in his ass.
Тип HD видео
: 1080p
Качество видео
: WEB-DL
Формат видео
: MP4
Видео
: H.264/AVC 1920x1080 25fps 6000 kbit/s
Аудио
: AAC 48000Hz 2.0 chn 189 kbit/s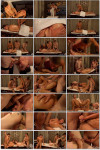 Информация
Посетители, находящиеся в группе Гости, не могут оставлять комментарии к данной публикации.