Michele James - Fuck My Hot Busty Step-Sister Michele After Pop-pop's Funeral (2020) HD 1080p
19.08.2020
|
Просмотров:

495
|
Комментариев:
0
В закладки
Имя актрисы
: Michele James
Название ролика
: Fuck My Hot Busty Step-Sister Michele After Pop-pop's Funeral
Подсайт и сайт
: FilthyPov.com / FilthyPov / Clips4sale.com
Дата производства
: 2020
Жанр
: incest, big tits, pov, taboo
Продолжительность
: 00:15:02
Описание
: I knew my Step-Sister Michele was having a hard time after our Pop-pop passed, but I didn't know she was taking it this hard. I walk in her room and she was still crying, everyone was back at our house to have a little get together for like a celebration of life. I tell Michele to relax, Pop-pop is in a better place. I give her a little foot rub and tell her to get comfortable, I didn't expect her to get up and strip naked. They say everyone handles people passing differently I guess my step-sister wanted to feel something other than sadness. I gladly fuck my hot busty step-sister to make her cheer up, I gotta admit I always wanted to play with her huge tits. I guess we were being too loud cause my Step-Dad walked in on us asking if we wanted some ice cream. I got some explaining to do now I guess.
Тип HD видео
: 1080p
Формат видео
: MP4
Видео
: MPEG4 Video (H264) 1920x1080 29.97fps 5982kbps
Аудио
: AAC 48000Hz stereo 317kbps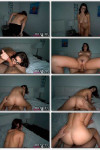 Информация
Посетители, находящиеся в группе Гости, не могут оставлять комментарии к данной публикации.