[Peeing] Antonia Sainz, Jenifer Jane - Geography (2018) HD 2160p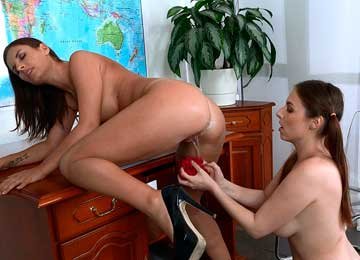 Год производства
: 2018 г.
Страна
: Czechia
Жанр
: Close-up, Dildo, Fingering, Lesbian, Piss in glass, Piss in mouth, Pussy wash, Shaved, Wet hair, Wet toy, Natural big tits, Fake big tits
Продолжительность
: 00:29:49
Студия
: VIPissy
В ролях
: Antonia Sainz & Jenifer Jane
Описание
: We are so excited to have beautiful brunette babes Jenifer Jane and Antonia Sainz back to VIPissy this week and Jenifer is teaching Antonia some Geography. She can see that Antonia is clearly more interested in her skimpy little outfit than anything on the map, and as Jenifer sits up on the desk, she reveals that she isn't wearing any panties. Cute Antonia lifts up Jenifer's skirt and as she sits back in her chair, Jenifer showers her in her own golden piss, soaking Antonia's tank top! Jenifer licks up Antonia's wet legs and works her way up to her soaked tits then helps Antonia strip naked. Antonia takes her place on the desk and pees all over Jenifer, and it isn't long before both pissing lesbians are naked together! As Jenifer lays down on the desk, her eager student Antonia starts to lick her pussy. Jenifer shoots another stream of her piss towards Antonia's mouth, giving her a brief taste of piss drinking! Antonia also gets her pussy pleasured by her lecturer and then as Jenifer sits down on the floor, naughty Antonia spreads her legs and squats on the desk, pissing all over it and into Jenifer's mouth! Jenifer instructs Antonia to look in the drawer of her desk and she finds a purple vibrator which they both share. Jenifer and Antonia catch their combined pee in a glass bowl and using a sponge, soak up their juices, squeezing them over each other to finish this seriously hot pissing pornstars scene!
Тип HD видео
: 2160p
Качество видео
: WEB-DL
Формат видео
: MP4
Видео
: avc, 3840x2160, 25.00fps, 22,3Mbp/s
Аудио
: aac, 48000 Hz, 317kbps, stereo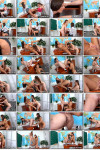 Взяли: 26 | Размер: 4.71 Gb
Последняя активность: 26 января 2020 15:05
Раздают:
4
Качают:
4
Скачали:
87
vipissy.18.06.11.antonia.sainz.and.jenifer.jane.geography.4k.mp4 (4.71 Gb)